Ready to launch your career
Applying means preparing, planning and being inquisitive. We've summarised what you should bear in mind when applying. Also good to know: want to join the GLS team but can't find any suitable job vacancy at the moment? Then feel free to send us a speculative application. New opportunities are always opening up in our growing company.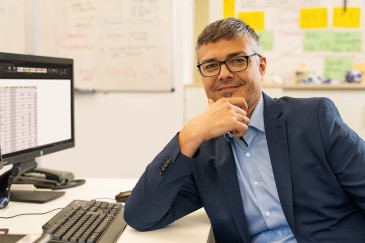 Apply via our career portal
You'll receive a confirmation email
Your application will be passed on to the relevant department
We'll take a look at your application
For some positions, we'll send you a couple of questions to answer via video whenever you have time
We'll invite you to an interview
Your job is to convince us to hire you when we meet you in person
You also need to decide if we're right for you: conclusion of contract
Can I also submit my application by email?
Please send us your application via our career portal. This simplifies and speeds up the application process.
How do I apply?
It's easy! Find the job you want to apply for in our job offers and click on "Apply now".
What documents do I need to include in my application?
That depends on the job offer in question. You can find more information in our application tips for the respective departments. Whatever position you're applying for, send us your CV as well as school reports and employment references.
How do I upload missing documents that have been requested?
Simply reply to the email where we request more information and attach the missing files in PDF format.
I'm interested in a position that's no longer online. Can I still apply?
We remove the positions that have already been filled from our job board. Unfortunately, you can therefore no longer apply for these jobs. However, we're always advertising new vacancies so keep checking. You can also send a speculative application.
I sent me application a while ago but still haven't heard anything. Where can I find out about the status of my application?
Please note that we receive a lot of applications. We'll be in touch with you as soon as possible once we've had a chance to review your application.
Where can I work for GLS?
We've got sites all over Germany. Use the search function to find jobs at all our locations.
Where are the headquarters located?
Our headquarters are in Neuenstein. The town of Neuenstein is located in eastern Hesse - halfway between Fulda and Kassel. We also have a central location in Eschborn near Frankfurt.
Can I work from home?
Yes, we have lots of jobs where you can work from home.
What benefits does GLS offer?
The benefits vary from site to site. However, whatever site you're on, we work together with various providers who offer discounts to our employees. You can find out about further benefits in the job description.
GLS Germany
GLS IT Services
I work for a recruitment agency or temporary employment agency. How can I introduce you to applicants?
Please note that we receive lots of applications. Therefore, please refrain from submitting unsolicited applications to us. We'll get in touch if necessary.
How can I apply to be a delivery driver?
GLS does not employ drivers. We only work together with independent transport companies for delivery. You're welcome to send us your contact details at Transport partner site and we'll be happy to pass these on to the relevant transport company.