Application tips
Have we convinced you? Are you interested in an apprenticeship, integrated degree programme or internship at GLS? Then apply now via our career portal. We'll show you what to do and what to bear in mind.
You apply via our application form in the career portal or simply via WhatsApp
You'll receive a confirmation email
Your application will be passed on to the relevant department
We'll take a look at your application
Depending on the position, we'll invite you to attend a video interview, in-person interview or assessment centre or to sit a recruitment tes
Your job is to convince us to hire you when we meet you in person
You also need to decide if we're right for you: conclusion of contract
Welcome to GLS!
How do I apply?
You can apply for apprenticeships, integrated degree programmes and internships via the job vacancies in our career portal. So please just send us your application via our career portal.
If applying for an apprenticeship or internship, please don't forget to state your preferred GLS site in your application. Otherwise, your application cannot be processed.
How long do I have to apply?
There's no official application deadline. However, those that apply as soon as the job vacancy has been posted are more likely to be considered in the selection process.
What documents should I enclose with the application?
Please send us your cover letter, CV and last two school reports or school-leaving certificate in order to give us a first impression of you. Please feel free to send us any other certificates and evidence.
How long will it take to hear back?
You'll receive an automatic confirmation of receipt once we've received your application. We'll then pass your application on to the relevant contact person. It can take a bit of time to review your application (approx. 6-8 weeks). We'll get back to you as soon as possible and let you know about subsequent steps.
What is the selection process usually like?
Apprenticeship: if you're a suitable candidate, we'll invite you to an interview to get a better picture of you and clarify any outstanding questions. The interview is an opportunity for us both to get to know each other, meaning that you too get the opportunity to ask any questions. Depending on the site, we might carry out an initial recruitment test.
Integrated degree programme: if you're a suitable candidate, we'll invite you to an assessment centre to get a better picture of you. Any outstanding questions can be clarified in the subsequent interview. If you're successful at the assessment centre, we'll recommend you to our contact person in the relevant GLS region. The interview is an opportunity for us both to get to know each other.
Who can I contact for more information?
We have direct contacts for the apprenticeship sites and for the integrated degree programme. You can find out who to contact either directly in the relevant job advert or simply by clicking here.
Sina-Loris Topal
Recruiting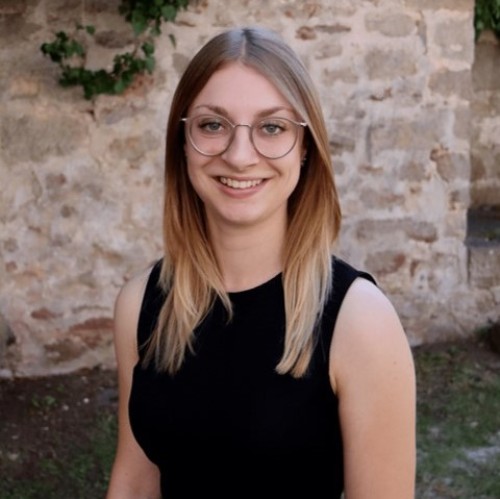 Laura Alles
People Development Specialist - Contact integrated degree programme