I can also carry out interdisciplinary projects – that's a great thing at GLS. If potential for optimisation is discovered, we're able to address it either independently or as part of a team. I love that!
Timm, Project Manager Content Marketing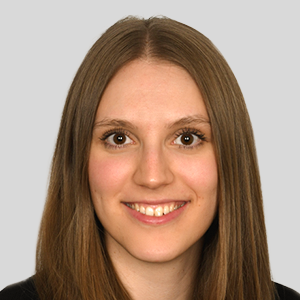 GLS has an incredible number of different & interesting areas, both central and operational. In my opinion, there is something for everyone here & even if a new task calls for you, I am sure that GLS has the right place for you.
Elisa Heil, Project Manager Finance
Diverse career paths
As a future-proof company in a growing industry, we offer you exciting career opportunities. With us, you always have the chance to make a difference and develop yourself. And in a way that suits your career.
What exactly does that look like? Mirela from our recruiting team will tell you in her very personal GLS path.
A wide range of opportunities
With our extensive training and development opportunities, you have the chance to shape your career in a way that suits you.
Sven will tell you how you can develop your career with us. He has been with GLS for over 25 years and has experienced quite a bit in that time.
Our comprehensive package for you
Are you looking for a company that supports you and your hard work? Then you've come to the right place! We know that we can count on you and your expertise. Good performance is rewarded. That's why we offer many attractive benefits.